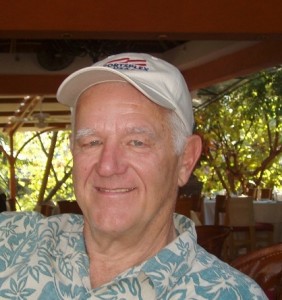 I was born in Chicago, Illinois. My earliest memories were of running through the woods in the Palos Park Forest Preserve where we lived. I still love the trees, flowers and brooks of the Midwestern spring, summer and fall. Too bad winter is thrown in there too. We moved into Harvey, Illinois, the town where both my parents were raised, as soon as we could buy a house. It was there that I learned about pressure: pressure is when you have the same teachers your folks had when they were straight A students and great athletes to boot.
Our family moved to Southern California in the heady days of the Aerospace boom. I graduated from Tustin High School, and went on to become a member of the first graduating engineering class at UCSB. It is safe to say that the school's now world class engineering ranking was not my fault. The best part of my collegiate experience was meeting my bride, Pat, our freshman year. She's a true saint, and proves it by still being with me all these years later.
The next forty years or so are a blur. Somewhere in there I went to graduate school at night, raised three wonderful children, started and ran a couple companies, coached youth baseball, soccer and basketball, lived in France for a while, and collected seven grandchildren. During that time I began to write. On the advice of my mentor, I began keeping a daily journal, bound and in ink, to provide proof of the specific times of invention. None of my patents were ever contested. The habit of daily journaling remains today. My writing spilled over to technical articles in journals and conferences, eventually leading to a masthead inclusion as contributing editor in "Advanced Imaging."
Writing about Electro-Optics and writing anything resembling a coherent novel are very, very different. But who knew? Besides, when my son wrote and published his first, I just had to try my hand at it. I'm still trying, still having a great time doing it, and – hopefully – still getting better at it.
Now in "retirement" I find I'm busier than I ever was when employed. There's so much to do, so much to see, and enough time to "stop and smell the roses."