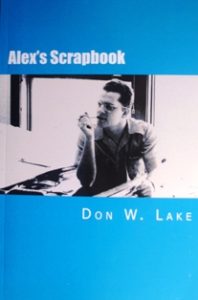 A teenage boy's high school year's are difficult, no matter who the boy, where the school, or when they occurred.  His attending during the depression ending years – 1936 through 1940 – added unique economic conditions.  Going to school on the ethnically mixed South side of Chicago posed other problems for a Polish boy, particularly a technically gifted, but socially inexperienced one.  Looming over everything was the threat of war, a potentially huge war where everyone his age was sure to be intimately involved.  Alex Lakowsky had his own special help through it all, his scrapbook.  Every item published in the newspaper that concerned anything about flying, Alex carefully saved, reviewed, referred, and spent special moments when he needed comfort.  This is Alex's story, told with the help of pictures from his scrapbook.
Tuesday, June 9, 1936, graduation day throughout the entire Thornton School District, including Ted's high school and Alex's elementary school. For Theodore Lakowsky, it represented his crowning educational success. He'd finished his twelve years of schooling, he'd learned his trade, and he had a job. Frank and Anna were justifiably proud parents. Anna brought Mike and Connie to Ted's ceremony. Betty arranged her schedule so she could come and cheer for her little brother. Frank went to work as usual that morning, but did give his oldest son his congratulations at breakfast.
Everyone piled into the Hupmobile early that morning. On the way to Ted's ceremony they took Alex, his shoes shined, pants pressed, shirt buttoned all the way to the neck, bow tie carefully tied around his neck, and carrying his folded robe and mortarboard hat, to his school, Lowell elementary. They dropped him off in plenty of time for him to participate in his eighth-grade graduation ceremony. Alex marched down the aisle between the folding chairs in the gym, alongside his best friend, Ray Tomsheck, accepted his diploma in turn, threw his hat when everyone else did, and then turned in his cap and gown, and walked home thinking how proud he was of his big brother. He arrived home first, so he changed out of his only set of "good" clothes, and went outside to finish his morning chores.
When the rest of the family returned, there was soda pop and a cake Anna made for her two, newly graduated, sons. Ted left just as soon as he could to be with his girlfriend. There was only a single present, from Betty, to her little brother Alex. When he unwrapped it, he recognized it as an unused scrapbook left over from Betty's wedding. A large, maroon-covered, bound book, it held perhaps a hundred blank pages waiting between the covers. The word "Scrapbook" in gold, filled the entire front cover. Alex opened the cover to the first page, and read the words his sister wrote for him. "Save your favorite dreams in these pages, and they will come true." Alex tried to hold back the tears. He failed.
The following morning, Ted drove off at six forty-five for the first day of his new, full time job. Mike took over Ted's farm responsibilities, which included delivering the day's flowers and produce to the far-south-side collection point by five in the morning. Alex stepped into Mike's old job of tending the plants. Because Anna personally selected and cut all the flowers, and all the greenhouse-started seeds were in the ground, Alex spent his time picking vegetables, weeding, and spraying a soap solution on any plants that attracted insect pests. It only took him a few days to discover he had his mother's natural way with plants. By the fourth of July, he had the entire two and a half acres thriving like never before. Mike even reported that people started asking for "Lakowsky Grown" flowers and produce, but no one offered to pay more for it.

Alex heeded the words his sister wrote in his scrapbook, and before the Fourth of July Sunday paper arrived, Alex had carefully cut out, and taped in place, several pictures of flowers and animals. Glue was not readily available in the Lakowsky household, and Alex thought the white paste used in school, too lumpy and messy for his special book. Instead, he cut carefully squared-up pieces from the family's roll of white medical tape used to hold gauze bandages in place, and then precisely positioned these at the corners of every picture and article he saved.
That Sunday's paper, in the weekly Science and Industry section, ran a picture and an accompanying article about the latest advances in Kellett autogiros. Alex stared at the odd looking machine. He knew it flew, but it had no wings or tail. The engine and propeller in front made the fuselage look like an airplane, but the front wheels appeared added as an afterthought. Sticking out the top was a huge three blade propeller.
Mike's afternoon and evening part-time job, made it imperative that Alex learn how to drive the family's Model T pickup. At first, the trio of pedals, the two levers on the floor, the spark advance, the throttle behind the steering wheel, and the rear-wheel only brakes, seemed daunting. But Alex soon mastered them all, along with keeping the fuel tank adequately full, the oil within proper limits, the transmission bands serviceable, the tire pressure right, and the cooling fluid topped off. It seemed that fifty miles was about the maximum distance between adjustment and repair of something or another. Because the state of Illinois didn't begin licensing drivers until 1939, the Lakowskys simply paid the yearly registration fee, and let Alex drive where ever and whenever he needed to.
The Chicago Daily News didn't publish another aviation article until late July, when, nestled in a collage of other naval themed pictures, they ran a photograph of the brand new Grumman J2F Duck just as it cleared the catapult launcher of the USS West Virginia. Alex carefully cut out the oddly shaped photograph, and taped it on the page opposite the autogiro.
The J2F Duck was classified as a "single bay" bi-winger with only a single set of struts and a single set of bracing wires between the wings on each side. Powered by a Pratt & Whitney R-1830-62 "Twin Wasp" engine ultimately delivering 1,050 hp, the Duck could reach 190 mph, boasted a cruising range of 875 miles, and a service ceiling of 25,750 ft. It carried a crew of two, a pilot, and a rear gunner, and had provision for two passengers. Some said the Duck could be more aptly named the "Ugly Duckling." A true utility aircraft, when no other bomber could be found, it carried bombs; when no other transport could be found, it transported; when no other photo plane could be found, it photographed; and when no other rescuer could be found, it rescued. When it came to "Utility Craft," the J2F was the definitive example.
The USS West Virginia, one of five Colorado class battleships, was laid down in 1920, commissioned in 1923, and served until she was decommissioned in 1947. The USS West Virginia was 624 ft. long, displaced 33,590 tons, and carried 8 – 16 in guns at a speed of 21 knots. Sunk at Pearl Harbor, she was rebuilt and returned to service in July of 1944.
Alex lay open his scrapbook and studied the two pictures, now side by side, staring back at him. They showed two very different flying machines, two very different environments, yet both solutions to a single common problem, how to get aircraft into and out of spaces far too small to accommodate a normal runway. The pictures showed a roof of a downtown skyscraper and the deck of a naval capital ship, surely both as confining as possible, yet both environments with clear cut needs that aviation could fulfill. Alex intuitively felt that, given enough power from an airplane's engine, someone would solve the small space problem. All he knew about engines, so far, was how to keep an old Ford four-banger running, and that air-cooled radials were aviation's state-of-the-art power plants. He'd also seen the Buck Rogers serials at the Saturday matinees, laughed at the rocket ships, but knew that someday, some kind of totally new and novel engine would power future aircraft. The more he stared at the two pictures, the more the words "Learn What It Takes" rattled around in his head.