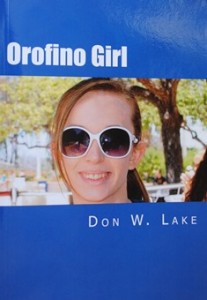 Kylie Tyler, in her seventeenth year, will be leaving the only place she's ever lived, Orofino Idaho, and venture to Italy for her senior year in high school. These brief photo-essays are designed, first, to help her get through her inevitable homesickness, and second to tell her sponsors a bit about her, her town, and a sampling about the United States itself. The initial section begins with a look at Orofino itself, continues with a look at nearby sights, and expands to include the entire state of Idaho. The following sections touch upon the Pacific Northwest, California, and finally the American Southwest. Kylie has lived, visited, and seen every spot, although she may have been too young to remember some of them.
Orofino, Idaho, sits at the base of Idaho's Panhandle, on the Clearwater River, and not far from the adjacent states of Washington and Oregon. Orofino is part of the Pacific Northwest region of the United States. Orofino Idaho, Clearwater County's county seat, sits nestled in a deep valley in the western foothills of the Bitterroot Mountains. The Bitterroots make up one section of North America's Rocky Mountains. Some 3,300 people call Orofino home. Another 5,300 live in the remainder of Clearwater County. Given the county's size of 2,488 square miles (6,444 square kilometers), it is obvious that Kylie lives in rural America.
"When I leave for Italy, I'll be flying into Milan, where I'll be picked up by my first host family, and driven to their home in Turin. Emanuela and Vincenzo Greco are very nice people. Their son is going to Texas the year I'm going to Italy, and they are very excited to have a daughter."
Pioneers first settled in Orofino over 150 years ago, but waited to assume the permanence of brick structures until the first two decades of the twentieth century. Like most western towns, Main Street lies adjacent to the railroad tracks. Orofino's downtown, however, lies one block east on Johnson Avenue.
"Orofino was a logging town. During the County Fair, called Lumberjack Days, there is a logging competition in which local loggers have contests in chopping wood, climbing trees, and axe throwing."
Orofino's status as the county seat means that it houses the county's official buildings. For example, the courthouse sits at the beginning of Main Street. Kylie's father, the Prosecuting Attorney, maintains his office in the courthouse. "Turin is a city of 2,000,000 people. That's quite a difference from my town of 3,300 people."
Kylie's Life
It seems as though just yesterday,
I was still a little girl.
Back when I had such a simple view of life
and the playground was my world.
Each year passed by
as quickly as it came,
bringing new experiences;
nothing remained the same.
Before I knew it,
high school was already passing by;
friendships, sports, and school
became the center of my life.
But now that's almost over
with only a couple of weeks to go
I cherish every passing day;
the last OHS experiences I will ever know.
I've finally reached the top,
but it's time to start anew.
Orofino is behind me,
Italy suddenly is in view.
A brand new life, beginning fresh,
I'll leave it all behind
learning from the past, I take the step
and begin the rest of my life.