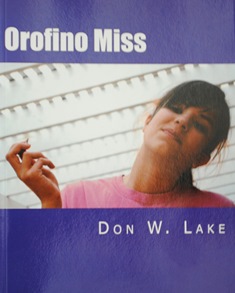 Shelby Tyler,in her seventeenth year,will leave the only place he's ever lived,Orofino Idaho, and venture to Brazil for her senior year in high school.  These brief photo-essays are designed, first, to help her get through her inevitable homesickness, and second, to tell her sponsors a bit about her, her town, and a sampling of the United States.  The initial section begins with a look at Orofino itself, continues with a look at nearby sights, and expands to include the entire state of Idaho. The following sections touch upon the Pacific Northwest, California, and finally the Pacific Southwest. Shelby has lived, visited, and seen every spot, although she may have been too young to remember some of them.
Orofino, Idaho, sits at the base of Idaho's Panhandle, on the Clearwater River, and not far from the adjacent states of Washington and Oregon. Orofino is part of the Pacific Northwest region of the United States.
"Sometimes I feel like it's in the middle of no where! We are surrounded by mountains, and unless it's warm, there isn't a lot to do. It's beautiful though and I love it!"
Orofino Idaho, Clearwater County's county seat, sits nestled in a deep valley in the western foothills of the Bitterroot Mountains. The Bitterroots make up one section of North America's Rocky Mountains. Some 3,300 people call Orofino home. Another 5,300 live in the remainder of Clearwater County. Given the county's size of 2,488 square miles (6,444 square kilometers), it is obvious that Shelby lives in rural America.
Pioneers first settled in Orofino over 150 years ago, but waited to assume the permanence of brick structures until the first two decades of the twentieth century. Like most western towns, Main Street lies adjacent to the railroad tracks. Orofino's downtown, however, lies one block east on Johnson Avenue.
"It's small but pretty nice."
"Shelby, Yourself"
You are a part of all that surrounds you.
Celebrate your connection to life as you step into the future.
Your abilities can take you to the top,
but it is your character that will keep you there.
Build your character well for it is the foundation of your being.
The adversities you will face will not build your character
– they will reveal it.
Unlock your potential.
Every moment has a hidden gift.
Discover. Dream.
You will create your tomorrows by what you dream today.
Dreams are the touchstones of your character.
Imagine the unimaginable.
This is your time. This is your life.
Seize the moment. Delight in your youth.
Life is your canvas and no one can paint it but you.
Inside you is the key to everything you can imagine and more.
Learn from yesterday, live for today.
You are the hope for tomorrow.
Let Brazil launch you higher than ever before.