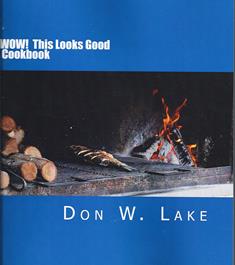 Trying new recipes is exciting, finding them exhilarating. Adventurous cooks endlessly clip and save new recipes, recipes they think look really good. When my pile reached a foot high, I knew it was time to do something … the answer is this cookbook. A collection of recipes, presented just the way they were piled in my kitchen cabinet, with only the anticipation of discovering what could be next as organization. Enjoy!
Collecting recipes is something all of us who love to spend time in the kitchen do. The great chefs do it, adventurous cooks do it, and housewives looking for variety in their meals do it; everybody who cooks does it.
Recipes come from a variety of sources; newspapers, magazines, friends, internet, package backs, advertisements, parents and grandparents, anyplace that someone has managed to write down ingredients and the method of combining and preparing them. We all do the same thing, we clip them and put them someplace where we can find them again.
My technique is to pile them up in a safe place, a place where they won't be disturbed, but where it is easy to add to the pile. The last time I went to add one more, YIKES! The pile had somehow grown to nearly a foot high. Something had to be done. All those recipes I'd saved for the past twelve years, plus a few strays here and there, needed organizing.
The answer, one not available to cooks of yesteryear, was to scan them into the computer, sort them by category, and compile them into a book. A cookbook of recipes that looked good enough to save, not necessarily that were tried, just saved. That effort is this cookbook.
The recipes included here are presented just as they were in the pile, or just as they would have looked had my mother pasted them into a notebook. If there is a reference to who published them, it is purely coincidental. They were all in the public domain, somewhere, at some time, put forward for people to clip them and try them. This cookbook stays true to that ideal.
Unlike real authors who try and write balanced, or theme-centric cookbooks, I simply followed one principle; if it looked good to me at the time, I clipped it. Organization is limited to alphabetizing, sort of.
I hope, as you go through the pile, you too will find things that look good to you.